Human Traffickers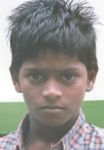 Human Traffickers Prey on Tsunami's Most Vulnerable Victims
Before the debris settled on the devastating Southeast
Asia tsunami of December 26, reports of human
trafficking emerged from the region. With the death
toll now higher than 200,000, tens of thousands still
missing, and entire costal villages decimated, it's hard
to imagine things getting much worse for the nations
involved. Yet as incomprehensible as it seems, evidence
is mounting that child trafficking gangs are preying
on the regions thousands of children who are orphaned
or separated from their parents...